Great Beginnings is home to one of the Georgia's largest pre-kindergarten programs with five Pre-K classes and 110 children currently enrolled in our Sugar Hill location. The Georgia Pre-K program at Great Beginnings provides age appropriate activities and learning experiences that help prepare young children for school. Georgia Pre-K is designed to promote school readiness, meaning that children are socially, emotionally, physically, and cognitively prepared for success in kindergarten. The Georgia Pre-K Program helps children become independent, self-confident, enthusiastic learners. Participation in the program encourages children to develop good habits and daily routines.
The Georgia Pre-K Program encourages teachers to adopt child-centered instructional practices based on the interests and the skill levels of each child. Research shows that children benefit most when instruction is child-centered. Child-centered instruction allows teachers to facilitate learning in a rich environment that fosters children's initiative, exploration, and collaborative interaction with other children and adults.
Pre-K Curriculum typical includes but is not limited to:
Morning Circle: Roll Call, Weather and Pledge of Allegiance
Phonological Awareness: ABC Games
Centers: Legos & Blocks, Math & Manipulatives, Science, Computer, Listening Center, Art, Puzzles, Multicultural Center, Sensory
Music & Movement
Reading & Writing
Story Time
Outside Activities
Field trips
Use of KIDSCLUB
Parents are encouraged to become involved in what their child is learning and experiencing in nursery school and Pre-K, because your participation contributes to your child's success in school, a parent is a child's first and most important teacher. Great Beginnings is here to make your job easier and proudly educates children and parents locally from Sugar Hill as well as Buford, Cumming and Suwanee, GA.
To schedule a tour of our early childhood development center, Call us today or schedule an appointment online using our contact form located Here.
Great Beginnings learning center is conveniently located at 1191 Level Creek Road – Sugar Hill, GA 30518
Georgia Pre-K
received
4.5

stars out of

5

based on

6

reviews on Yelp.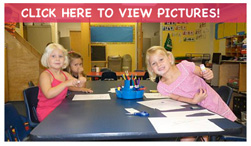 Seeing is Believing!
Click here to take a look for yourself and see what our pre-k is all about!
For more information on the Georgia Pre-K Program, please visit the Bright from the Start Website at http://decal.ga.gov/.
contact us